Why Snorkel at Molokini?
Maui has no shortage of snorkeling spots, but Molokini has become an easy favorite amongst beginning and skilled scuba divers alike.  If you're looking for a picture perfect snorkeling adventure, this spot is for you!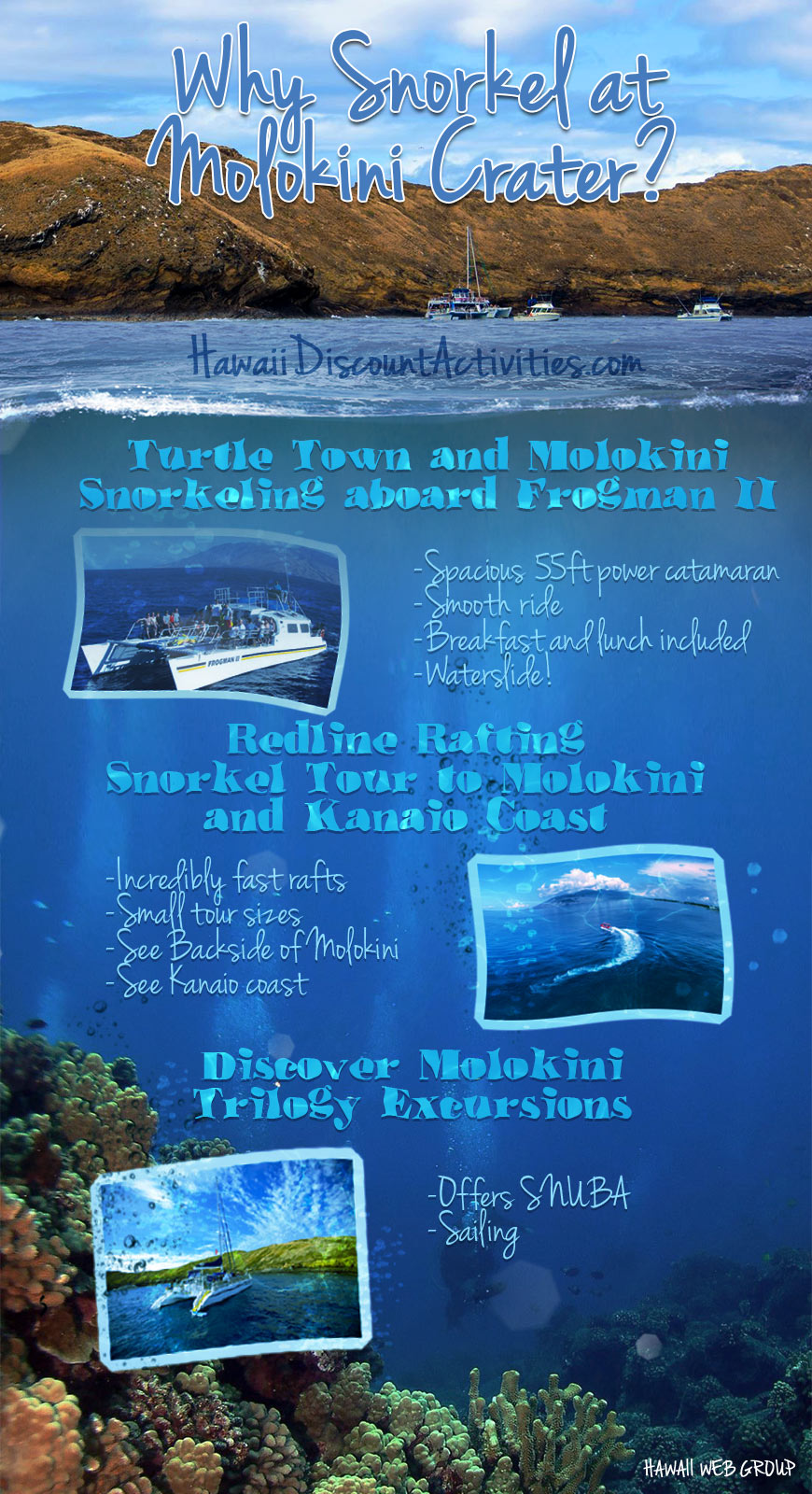 History of Molokini:
Molokini is easily recognized by its unique crescent shape, but it had to work hard to get there!  Approximately 230,000 years ago, an underwater eruption caused the earth to bulge.  This created a cone like shape, and the many of the cone's walls would explode and collapse.  Maui has hundreds of ancient cinder cones underwater, but Molokini was one of the few cinder cones that rose up from the depths of the ocean floor.  Many, many years of water erosion from the waves has carved and created the shape of this ancient volcano we know and love.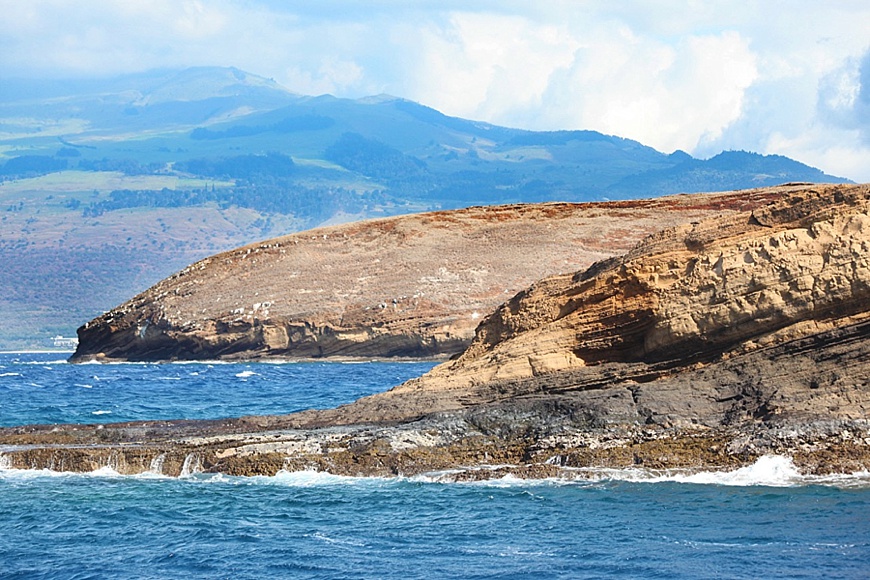 Present Day Perks of Molokini:
A few miles off the Makena coast, you can see Molokini.  What you can't see from the shore is that this crater is very well protected, on land and in the water.  Molokini is federally owned and protected as a Hawaii State Seabird Sanctuary.  This is the home for two species of seabirds, and you will see plenty of birds soaring the skies surrounding the crater.
All 77 acres underwater are considered a Marine Life Conservation District, which means that there is no fishing, collecting or destructive behavior allowed.  This has allowed the crater and its inhabitants to flourish.  The shape of the crater creates a safe shelter from the deep sea, and many exceptional fish call these waters home.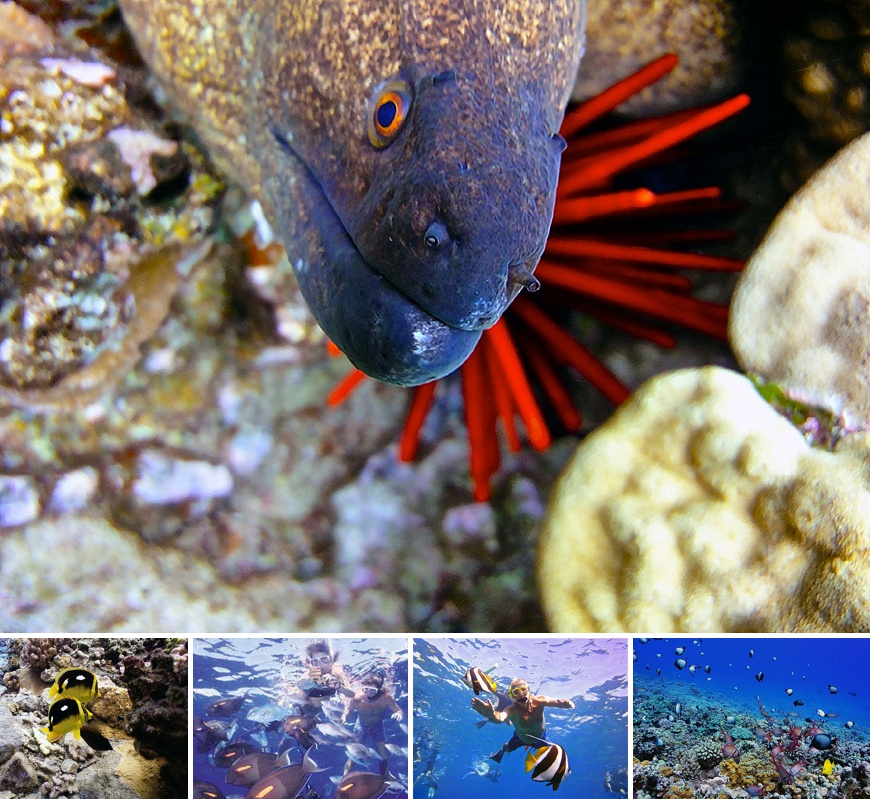 The crescent shape also provides a natural barrier against the waves and currents, which is why the water is known for being incredibly clear.  100-200 feet visibility makes it very easy to see the Black Triggerfish, Yellow Tang, Moorish Idol, Parrotfish, Raccoon Butterfly Fish and Bluefin Trevally, just to name a few of the 250 marine species in this area!  Because of the many snorkeling and scuba diving tours that come through, these fish are well acclimated to human exposure.  This allows each swimmer a front row seat to one of the best underwater shows in the world!
The backside of Molokini is reserved for smaller tour boats, and is considered one of the best 10 dive spots in the world.  The crater wall drops vertically out of sight, even with great visibility.  Unique to this location is the pyramid butterflyfish, orange cup coral blankets, black coral houses, long-nose hawkfish and gobies.  These waters are known to bring a few surprises along, so keep your eyes peeled!

Best Way to See Molokini:
While we think snorkeling or scuba diving Molokini is the best way to explore this crater, some people prefer to see its beauty from the comforts of a boat.  There are many ways to experience Molokini, so we've provided a variety of options to suit your needs!
Awesome Maui Snorkel Tour to Molokini and Kanaio Coast with Redline Rafting:  Looking for a ride on the wild side?  Designed for stability and speed, these ocean rafts will get you to your destination in no time!  And the smaller tour will enable you to sneak to the backside of Molokini.  This tour takes you to two other locations besides Molokini, and after three hours of snorkeling, you'll be ready for the provided onboard lunch.  All of your equipment is included in the tour, so there isn't any guesswork on what you'll need to have a great time!
Turtle Town and Molokini Snorkeling aboard Frogman II:  Catamarans are known to be the stable stallion of the sea.  And this 55 foot spacious power catamaran makes this tour one smooth ride!  This tour takes you to Molokini and Turtle Town, with breakfast and lunch included.  And this boat even has a waterslide, which makes everyone inner child excited!
Discover Molokini – Trilogy Excursions:  Is snorkeling not exciting enough for you but you're not quite ready to scuba dive?  Then snuba is a perfect fit for you!  It's a blend of snorkeling and scuba, which allows you to breath through a simple regulator while your air supply floats on a support raft at the surface.  You'll get to see the underwater beauty of Molokini up to depths of 20 feet.  This sailboat excursion is an adventure from beginning to end!
A Few Insider Tips:
It's confusing to pick the right tour for you with all those options out there.  Here are a few things to consider before choosing:
Luxuries:  Some tours include everything from fresh cinnamon rolls to a wetsuit in their tour package.  Other tours only offer the ride to your snorkeling location.  Most people find it nice to have everything taken care of, so make sure your tour is packaged to fit your needs and wants.
Boat Mates:  Tour sizes range from 20 to 150.  Some people love the hustle and bustle of the big tour, but others prefer to keep it mellow.  If you'd prefer to get some individual attention and the possibility of seeing the backside of Molokini, go for a smaller tour.  However, the bigger tours tend to have things like hot showers, which is always a plus after a few hours of swimming!
Rise and Shine:  Most of the tours leave pretty early in the morning, so you will want to see where they depart from and match it up to where you're staying.  You don't want to be stuck with a tour that leaves at 6 am and your hotel is 45 minutes away.  Try and pick a tour close to home so you're not stressed about making the early departure.
Windy City:  The trade winds tend to pick up in the afternoon, so it's recommended that you pick a morning tour.  There are afternoon tours available, but keep in mind that it will most likely be a rocky ride over and the enjoyment and visibility diminishes.  Put yourself to bed early and pick one of the morning tours!
Molokini is one of those incredible experiences that you don't want to miss while on Maui!  And with a few helpful hints, you will be making memories that will last a lifetime!  For more information on other Molokini snorkeling tours, please visit the Hawaii Discount Activities page today!